Samsung Galaxy S5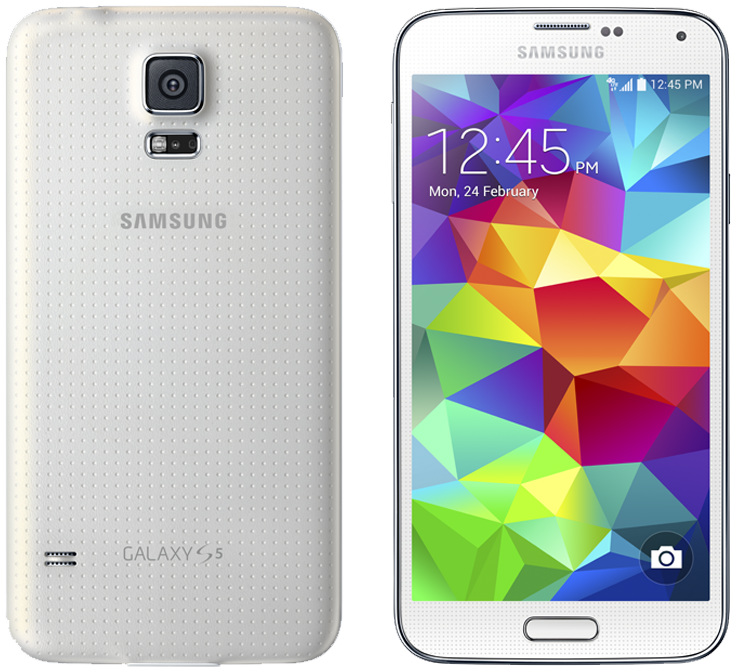 Colors:
Capacity: 32GB
---
MSRP:$699.99
Our Price:$599.99
Per Month:$27/mo
No Contract
---
Details & Specifications
Description



Stunning. Innovative. Simply inspired. The Samsung Galaxy S5 is technology that truly impacts your life. Make split-second moments yours. Watch HD movies and games roar to life. Or track your life right down to your heartbeat. Powered with innovation, the Galaxy S5 is like no other mobile device before it.

The Next Big Thing is Here

Samsung Smart Switch: The Easiest Way to Transfer Content to a New Device


Switching to the new Galaxy S5 has never been simpler—or smarter. With Samsung Smart Switch, you have the freedom to move from other smartphone platforms without fear of losing your personal content—music, contacts, photos and more. So now you have nothing to lose.

Professional Quality 16MP Camera with Faster Focus
Capture moments as they happen with the only camera you'll ever need. With a lightning-fast autofocus, you can frame, take and edit split-second shots like a pro.

S HEALTH Integrated Mobile Health partner
We've given your heart some love with the first-ever built-in heart monitor that responds to your touch. Meet your perfect workout partner as you track your steps, challenge friends, earn badges and get on-demand nutrition advice.

Stylish Design that Stands up to Every Day


Form and style have never been more functional. Dustproof and water-resistant, the Galaxy S5 is made for action. Whether you're running in the rain or digging in the garden, the Galaxy S5 will look good and work even better.

Secure Fingerprint Scanner for Faster Access


Unlock your phone with the touch of a finger. Quickly access your work, websites and more—all without entering a password. Opening your phone has never been easier.

The World's Quickest Connections


Enable faster downloading, stream and browse faster. The Galaxy S5 allows you to enjoy the world's quickest Wi-Fi connectivity and the latest LTE connectivity available on any network. Working from a crowded coffee shop? Download Boost combines both Wi-Fi and LTE to give you even more acceleration.

Big, Bold 5.1" HD display


We've put everything we know about HDTV on brilliant display. Movies come to life as they were meant to be seen. Richer colors, darker shadows, faster response times—all on 62% more viewing area than the leading competitor.

Maximize Battery Power for When you Need it Most


About to run out of power but can't miss an important call? Use Ultra Power Saving Mode to turn the Galaxy S5 screen to black and white and shut off nonessential apps, so you get the maximum battery life for your device. That way, when you're down to 10% charge, you can still receive calls and texts for up to 24 hours.

Spec Highlights


3G/4G LTE connectivity

AT&T 4G LTE network is available in limited markets

Android 4.4.2 (KitKat)

2.5 GHz quad-core processor

5.1-inch full 1080p Super Amoled HD display

16-MP Rear Camera

Front 2-MP camera

16 GB ROM + 2 GB of RAM

Wireless-N Wi-Fi + Bluetooth 4.0 + NFC

Up to 29 hours of talk time

5.1" Full HD Super AMOLED Display -

A stunning view with rich vitality





Galaxy S5 offers the most excellent viewing experience a smartphone can offer. Its FHD Super AMOLED display is

brighter with more clarity, delivering a deeper and more vivid screen view. Galaxy S5's advanced Local Contrast.



Enhancement enables it to adapt and change according to the variation in light conditions. Under the sun or too much light, Galaxy S5 gives you an optimized display for you to see clearly and easily. On the other hand, when there is a lack of light, Galaxy S5 allows you to dim your display light so that your eyes feel more comfortable in the dark.



Richer Tone with HDR





Easily take rich, vivid photos-and videos-even in challenging light conditions. HDR gives you vibrant colours and true –to-life contrast that you can even preview in real time.



Fast Auto-Focus





The stunning, 16-megapixel camera gives you an incredibly fast auto-focus. So no matter how quickly life is moving, you'll never miss a moment.



Selective Focus





With the Galaxy S5, professional-looking photos are a snap. Selective Focus lets you focus on what's important-and artfully blur the rest.



Stay Powered Up





Don't worry if your battery runs low. Ultra Power Saving Mode changes your screen to black and white and shuts down unnecessary features to dramatically minimise battery use.



Dust & Water Resistant





The elements are no match for this phone. The Galaxy S5 is resistant to sweat, rain, sand, and dust. So you can take it with you anywhere and everywhere you go.



The Screen




The stunningly clear, 5.1", Full HD display analyses the light wherever you are-and then optimises the screen to look its very best. So your photos and videos always show their true colours.



Modern Glam





The Galaxy S5's distinctive-looking, perforated pattern comes in four shimmering colours. It's so eye catchingand feels so good in yourhand, you'll never want to put it down.



Heart Rate Sensor





Keep your finger on the most important pulse of all-yours. The first-ever smart phone with a built-in Heart Rate Sensor lets you measure your heart rate with a simple touch.



S Health





Staying active has never been simpler. S Health makes it easy to set personal goals and keep track of your achievements and stats, all in one place.



Samsung Gear Fit





With the world's first-ever wearable, curved AMOLED screen, the Gear Fit keeps track of texts, calls and emails-and your heart rate-right from your wrist. So you can keep on moving.



Finger Scanner



Enjoy upgraded, personalised security. Use your fingerprint to unlock your phone-or purchase content with Samsung services-instead of entering your Samsung account password.